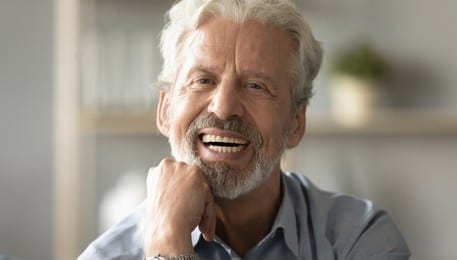 A denture is a removable replacement for missing teeth and surrounding tissues. There are many types of dentures are available; complete, partial, implant supported, and fixed are a few.  Complete dentures are used when all the teeth are missing, while partial dentures are used when some natural teeth remain.  The support of the implant allows the dental fixture to be shaped into a horseshoe, reducing the bulkiness and opening the palate to create more space for the tongue and better ability to taste food. Implant-supported dentures are sturdier and do not require adhesive. Fixed dentures – also know as non-removable dentures – are basically denture devices that consist of a row of prosthetic teeth connected to a framework that is held in position by dental implants.
What Our Patient Says
"It is always hard to move to a new place and get established with a new doctor and dentist. I was very pleased to become a new patient of Dr. Evon. Her staff are efficient, very competent and pleasant; the environment is clean and pleasant. I immediately felt that I was in good hands. Dr. Evon and her staff are very good at explaining what they are doing and what needs to be done to protect my dental health."