Tooth Restorations in Our Flathead Valley Clinic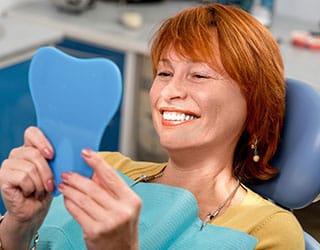 Nothing can take the place of a healthy set of teeth, but when a disease or an accident causes tooth loss, it is good to know you have options for replacing your teeth. We offer many different options for patients missing anywhere from one to all of their teeth. Dental Implants are a safe, effective method to replace missing teeth or to support dentures. Dental Implants are small, rod shaped titanium implants that are surgically placed into the jawbone. The implant will fuse to the bone.  Once the implant has completed its healing phase, we complete the restorative process with crowns or attachments for dentures.
What Our Patient Says
"It is always hard to move to a new place and get established with a new doctor and dentist. I was very pleased to become a new patient of Dr. Evon. Her staff are efficient, very competent and pleasant; the environment is clean and pleasant. I immediately felt that I was in good hands. Dr. Evon and her staff are very good at explaining what they are doing and what needs to be done to protect my dental health."